Creating Transparent AI Tools
This workshop provides designers and researchers with the knowledge necessary to assess transparency in AI/ML tools from multiple perspectives using established and emerging methods.
Date: Sunday, Oct. 22, 9am-12pm (local Central time)
Location: Illinois Institute of Technology, Chicago (in-person only)
Fee: $100 USD for registered conference attendees
This workshop is intended to explore the topic of transparency in AI applications used within security-focused industries including healthcare and finance. It is more broadly applicable to other industries, and helpful to researchers and ethnographers. Participants will be introduced to a model for exploring transparency from multiple perspectives. These perspectives include: goals, data, security, development, model, and impacts. Carefully considering each perspective provides organizations and researchers with a framework for assessing not only transparency but ethics and governance.
This workshop will begin with a discussion of the need for improving transparency in AI. Participants will dig deeper into several methods for evaluating transparency, such as data cards and model cards, as applied to a supplied (or participant provided) project example. The workshop will conclude with a survey of additional methods. Individuals from a mix of novice and advanced practitioners in the AI/ML space are welcome. Participants will be able to better understand and apply methods for improving AI transparency in their work.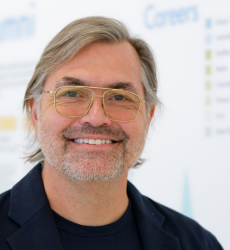 Nick paredes
Executive Director, User Experience | JPMorgan Chase & Co
Nicholas (Nick) Paredes is a human-centered designer, strategist, educator, and entrepreneur. Nick is an Executive Director, User Experience at JPMorgan Chase & Co in a newly formed business, Engineer's Platform and Experience. He leads design and research teams empowered to create new experiences to support our engineers in their work. Nick joined the Institute of Design (ID) as an Adjunct Faculty member in 2020, where he was tasked with creating and teaching an introductory class to support new master's students as they begin their design journeys. 
Nick has a master of design degree from Northwestern University and he attended the Basel School of Design as well as the Institute of Design as an undergraduate student. He served as a Visiting Professor with the Centro de Estudios Superiores de Diseño de Monterrey (CEDIM) Innovation Programs (2017–20) and as a lecturer at the University of Chicago (2017–18). Nick is a passionate Illinois Master Gardener and volunteers with Urban Growers Collective to support community gardening and local food production.
Workshops at IIT in Chicago are open to EPIC2023 attendees on a first-come, first-served basis. You can buy a ticket (additional fee of $100) when you register for the EPIC2023 conference, or add a ticket to your existing EPIC2023 registration by contacting registration@epicpeople.org. You must have a conference ticket to register for a workshop. Some workshops will be recorded and made available in our video library to EPIC Members.
Price: Tickets are $100 USD for each workshop
Class size: Maximum 20 participants
Date: Sunday, Oct. 22, 9am-12pm (local Central Time)
Location: Illinois Institute of Design, Chicago (in-person only)
Questions? Contact registration@epicpeople.org