How to Work Responsibly with Emerging Technologies
Learn how to anticipate and evaluate the future consequences of new technologies as they are adopted into complex commercial and social contexts.
Instructor: John Payne (Public Policy Lab)

Date: Tuesday, September 19, 9am–12pm Pacific (6–9pm CEST)
Location: Online
Fee: $100 USD for EPIC Members
Existing human-centered approaches to research and design are not adequate to effectively address emerging products and services that have the potential to scale quickly and affect people far beyond their initial audiences. In order to work responsibly when designing with emerging technologies, researchers and designers need a critical practice for understanding socio-technical systems and imagining potential futures, including unintended consequences and societal implications of products and services as we work.
In this tutorial we will use a framework to explore the consequences, both intended and unintended, of technologies as they are adopted into commercial and social contexts. We will discuss a number of emerging technologies, from "front stage" consumer-facing examples like Augmented Reality and Conversational UI, to "back stage" foundational technologies like AI and sensing technologies, to reveal the patterns inherent in their adoption. The goal is not a deep working knowledge of any one technology, but rather an overall understanding of the patterns of emerging technology adoption in a design and innovation context.
This session will equip participants with the ability to:
Understand the characteristics of emerging technologies when their practical applications are not fully known, and how this differs from mass market technologies that are more widely adopted.
Apply methods and approaches for uncovering likely consequences of emerging technologies as they are adopted into a commercial and societal contexts.
Communicate the value of identifying intended and unintended consequences of emerging technologies in the context of your research and design projects.
A light reading assignment will be distributed prior to the conference.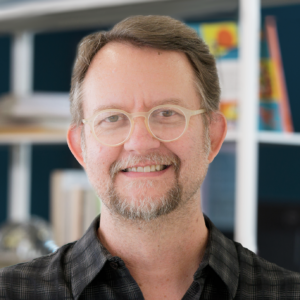 John Payne
Head of Design | Public Policy Lab
John is Head of Design at Public Policy Lab, a nonprofit service design consultancy who partners with the government to create more helpful public services for low-income and under-resourced Americans. Prior to this role, John was Head of Service Design at Verizon where his focus has been leveraging conversational artificial intelligence (AI) and service design to improve Verizon's Customer Service experiences for the one in three Americans who use Verizon's services. He co-founded and served as managing director of Moment, one of the first digital product design firms on the East Coast, until Verizon's acquisition of Moment in 2018. John has taught graduate-level design, research, and innovation at Institute of Design, Parsons, and NYU, and lectured at Princeton, SCAD, and Pratt. He has co-chaired and curated two international conferences—EPIC 2012, the premier international conference on ethnography in business and design, and IxDA's Interaction 2017, the Interaction Design Association's annual global conference.
Space in tutorials is limited and registration is first-come, first-served.
Tutorials ($100) and other Learning & Networking Week Programming (free) are open to all EPIC Members.
If you are not a current EPIC Member, the first step of your registration process will be to purchase a membership.
Price: Tickets are $100 USD for each tutorial
Class size: Maximum 25 participants
Date: Tuesday, September 19, 9am–12pm Pacific (6–9pm CEST)