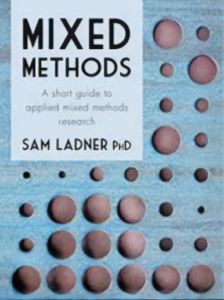 'Mixed methods" is one of the biggest buzz words out there…and it means a lot more than adding interviews to a survey, or gathering two different types of data. If Sam Ladner's essential book Mixed Methods has been on your reading list forever, or if you've read it but want to deepen your understanding in conversation with a bunch of brilliant researchers, this is the session for you!
This is not a Q&A with the author, but an active learning session about you and your experience. To get the most of this session, we offer a few prompts to spark your (human) intelligence:
Think about a time when the data or findings you generated for a research study did not drive the outcome you were looking for. Consider starting with chapter 3, specifically Figure 2 and reflecting on what kind of data you collected.
Think about a time when you added qual and quant data together but it seemed to create more problems instead of making a solution. Consider starting with p. 53 on "data dominance."
We invite you to add your own questions in this session's Google Doc.