Ethnography has grown, like many other industries, in tandem with a fossil fuel economy. As evidence of weather, resource and species disruption surround us on a daily basis, the climate sessions will give EPIC members guideposts and practical resources to adjust and thrive as informed, climate-conscious professionals. This session explores the many opportunities unfolding to evolve ethnographic practice to suit a changing climate, to serve the needs of species and beings that include, but are not limited to, the human.
Part I: Opportunities in Climate-Shifting Organizations and Markets 
Presenters: Ujjwal Gupta (ReD Associates), Melissa Gregg (Host), John Rooks (SOAP Group), Carrie Snyder (More than Sustainability)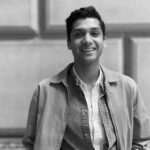 Not sure what sustainability even means for ethnographic practice? Join this session to gain insight from some of the pioneers in this field. Three experts share examples of the kinds of work companies are asking social scientists to help with when it comes to environment, climate and sustainability. Starting with business needs will ground us on the category of sustainability consulting and how companies see markets evolving.
Part II: Opportunities in Climate-Shifting Organizations and Markets  
Presenters:Josh Lepawsky (Memorial University), Kathi Kitner (Google), Mike Youngblood (Youngblood Group), Hedda Ransan-Cooper (Australia National University)

What research possibilities emerge when ethnography prioritizes sustainability? This session provides a showcase of considerations and opportunities to pursue climate- and carbon-conscious research methods and careers in business, government and academia.
Ujjwal Gupta is a Manager at ReD Associates who specializes in merging social and business theory to solve complex systems change problems. Previously, Ujjwal was a management consultant with BCG and other leading Indian non-profits, where he advised philanthropists, South Asian governments, and Fortune 500 companies on social impact optimization initiatives. He holds an MBA from Columbia University, New York.
Melissa Gregg is a is a consultant, writer and strategist spanning the tech industry and academia. After a decade leading UX research and sustainability teams at Intel, she is now a visiting professor at RMIT University in Melbourne, Australia. Her current work is curating the Electronics < > Ecologies series for the ARC Centre of Excellence in Automated Decision-Making and Society, an initiative that is mapping the environmental impacts of AI in the Asia-Pacific.
Kathi Kitner leads research on payment experiences in the US and consults on new research perspectives for the Payments team at Google. Part of her research is aimed at understanding under-represented and underserved households, their economies and money flows, how people participate – or not – in formal financial institutions and the more informal adjacent money systems. Her work is grounded in understanding how historical and current intersectionalities (gender, race and ethnicity) act to influence people's opportunities, decisions and behaviors in financial matter and more broadly. Previously Kathi worked as a Senior Researcher at Intel and for the US government in fisheries research. She has conducted fieldwork in North and South America, the Caribbean, Sub-Saharan Africa, Europe, the Middle East, India and Southeast Asia. Kitner holds a PhD in Anthropology and Latin American Studies from the University of Florida.
Josh Lepawsky is a Professor in the Department of Geography at Memorial University of Newfoundland. He researches the geographies of modern waste—waste that is synthetic, heterogeneous, and entails high degrees of uncertainty around its mitigation or remediation. He is author of Reassembling Rubbish: Worlding Electronic Waste and co-author of Discard Studies: Wasting, Systems and Power (MIT Press).
Hedda Ransan-Cooper is a Senior Research Fellow at the College of Engineering, Computing and Cybernetics at Australia National University, where her research is focused on the socio-political dimensions of energy transitions. She leads the social science program within the Battery Storage and Grid Integration Program (BSGIP), an interdisciplinary program to understand and facilitate the transition to a more sustainable electricity grid. Her research has covered various dimensions of sustainability transitions, primarily in the areas of migration and energy change.
John Rooks is Founder and Principal Consultant of the SOAP Group. He has consulted with Fortune 10 companies on sustainability initiatives and curious problems. John holds a Master's in Writing and Cultural Theory, and is the author of "More Than Promote: A Monkey Wrencher's Guide to Authentic Marketing" and "EcoHegemony: How Sustainability Influences Pop-cultures Or Vice Versa."
Carrie Snyder is a Sustainability Research Consultant at More than Sustainability who engages with organizations to dig deeply into the systems they wish to change through open-sourced sustainability cultural research and industry alliances. Carrie helps organizations and their partners shift underlying mindsets about their work and apply deep knowledge to start changing systems towards sustainability in a meaningful, long-lasting way.
Mike Youngblood is a cultural anthropologist working at the nexus of social science and human-centered design. He has worked with for-profit and not-for-profit clients around the world in a wide range of industries, including financial services, transportation, telecommunications, food and nutrition, education, healthcare, and social services. Mike has taught at the School for International Training, Maryland Institute College of Art, UC Berkeley Haas School of Business, and Hasso Plattner Institute of Design at Stanford University.